I've been tackling, starting, stopping, finishing, planning, and buying fabric for a myriad of projects.  This is not an uncommon occurrence by any means so let me show you what I've been doing….
Beehive Block:
The July Queen Bee chose a Spinwheel block with very specific color placement in bright, cheery, summery colors.  It was a blast picking out the fabrics and getting her approval on those chosen.  It turned out exactly as she wanted and I love that!
Broadway Mini Quilt Swap:
I put the finishing touches on the Broadway Mini Quilt Swap quilt which is based on the musical 'Into The Woods'.  It was one of many that my partner chose in the favorite musical question.  I made sure to watch all the ones I could that were on the list given and this one really spoke to me.  The main focus of it is the search for 4 items that need to be given to a witch to release a curse on a family.  I wanted to incorporate those items into my mini.  Part of what I like about participating in these swaps is needing to think outside of the norm to get to the end result that you want.  I wanted to try something new so I decided to do some improvisational curves to represent each of the 4 items. 
The four items are a Red cape, milk from a White cow, a Golden slipper, and a strand of hair Yellow as corn silk.  The 'I Wish' quote is a continuous theme throughout the musical.  I added the musical note fabric as a nod to the genre and binding it in the red really brings the whole piece together.  The Red Riding Hood fabric was perfect for this one.
I used the Riding Hood fabric on the back intermixed with the four main colors from the front.  Organic wavy quilting just brought it all together.  I also included a sweet keychain as a small extra.
I get the hardware from a shop called Everything Ribbons.  They also have this fabulous pair of pliers!  They are absolutely perfect for making these keychains and I'm glad I picked them up last time I ordered webbing and key fob hardware.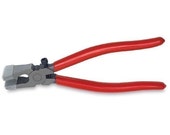 It's in the mail and I hope my partner really loves it.  Posting the finished project here will not give away my partner as I have seen a few on the Instagram feed with this musical as the star.  I should be receiving mine soon and will share once I get it.  Go and check out the Instagram feed on the #broadwayminiquiltswap hashtag to see all the goodness that is being created.
Christmas in August??
I'm also working on a commissioned project of 4 Christmas stockings.  She sent me a picture of what she had in mind and stated she wanted them to have the first initials on them.  I already had a pattern of letters that I could paper piece for the initials.  It is lowercase abc's by Diane Bohn.  I put those together first since they are to be the star and then I processed outwards from there.  Here's where I'm at right now.
I need to add at least 2 more rows on the top and bottom to create the heel and toe and to make the stocking fronts complete.  The next row will be a thick one of the holly and gold fabric.  All of this fabric was bought after Christmas at a great deal from JoAnn's earlier in the year.  I actually bought a ton of the red/gold dot (who doesn't love a great dot fabric) and I picked up a lot of that green/gold stripe because I think it would make great binding fabric for a ton of different projects.
Stash Enhancement:
There was recently a city-wide sidewalk sale nearby and one of the local quilting shops participated by clearing out some older lines to make way for some new ones.  I picked up a few Charm Packs of Beach House and a jelly roll of Navy Bella Solids.
There are some great prints in that pack and the navy solids will be great as sashing or adding some solids into a few upcoming projects.
I also grabbed a few end of bolt deals:
Havana by Monaluna, Grunge by Basic Grey, and Beechwood Park by Jenean Morrison – then 2wenty Thr3e by Cosmo Cricket.
I'm thinking backings for mini quilts or bag linings or baby quilts.  They were fabulous finds!
I also recently got some Christmas fabric.  I'm gearing up for the Christmas Mini quilt swap that I am in and any other small gifts I could come up with.  The Woody wagons from Holly's Tree Farm, the deer, the washi tape, and the snowglobes…..how could I resist?